OData and FndODataProvider¶
OData¶
OData (Open Data Protocol) is an ISO/IEC approved, OASIS standard that defines a set of best practices for building and consuming RESTful APIs. OData APIs are easy to consume. OData metadata, a machine-readable description of the data model of the APIs, enables the creation of powerful generic client proxies and tools.

Figure 1 - URL Structure of two OData Queries
More information available at: http://www.odata.org/documentation/
FndODataProvider¶
IFS OData Provider exposes IFS business entities and business logic through OData endpoints. It is based on Apache OLingo, a java library that implements the OData protocol and is used for the functions below:
Parsing of requests into syntax trees
Metadata validation
Parsing of HTTP request content
Generation of JSON results
IFS OData Provider with the help of Apache OLingo do the translation between the OData protocol and the underlying IFS Business Logic.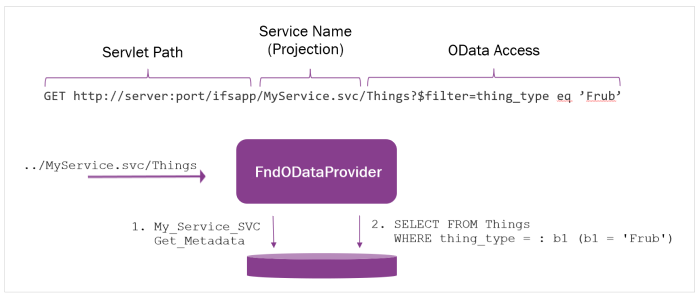 Figure 2 - FndODataProvider
---