Users and Groups¶
User section allows you to enable/disable IFS users for Remote Assistance Service and Groups to arrange them in a logical structure.
Users¶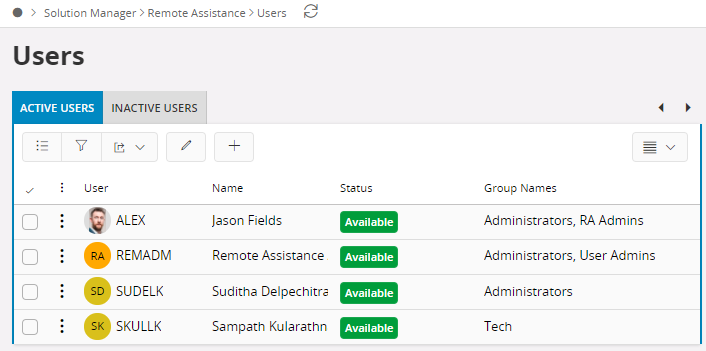 Active Users Tab - All active users in your account are displayed. Use Deactivate button to deactivate users for Remote Assistance. Only the active IFS users can make/receive Remote Assistance service video calls.
Inactive Users Tab - All users once active but currently deactivated for Remote Assistance is displayed here. Users can be Activated at any time on your wish. If a user is deactivated from IFS Users, automatically that user will be deactivated for Remote Assistance as well.
Enable users for Remote Assistance¶
Use the (+) to enable IFS Users for Remote Assistance Service.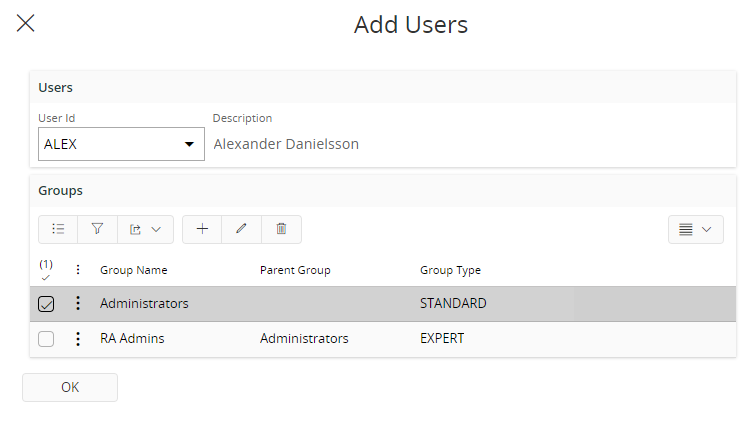 Groups¶
Groups section allows you to manage visibility and organize calls to specific departments in your Company. this gives the flexibility to create regional or skilled based groups which consist of relevant users and expert group(s). They designated if members can see each other and if they can see members from other groups.
Groups can be defined as Standard or Expert.
Standard Groups - Standard group can be a standalone group with users, or it can act as a parent group with expert groups. Users are not allowed to make calls to a standard group directly.
Expert Groups - Expert groups allow you to put subject-matter experts into a call queue. Users allow to directly call to an Expert group and Incoming calls will be routed to the next available user who has marked themself as "On-Call". Expert groups can not have any subgroups.

Expert Group Routing is designed based on the following rules

A member of an On-Call group must mark themselves as "On-Call" to receive calls.
If more than 1 user is On-Call, the user who took a call least recently will be called first.
If a user in an On-Call group is already in a call, they will not be available to take a call.
If no users are On-Call, the user who tried to call the group will receive the message "No experts are currently available to take your call."
Setting up a group¶
Go to Solution manager > Remote Assistance > Groups. Select new button and fill in the information.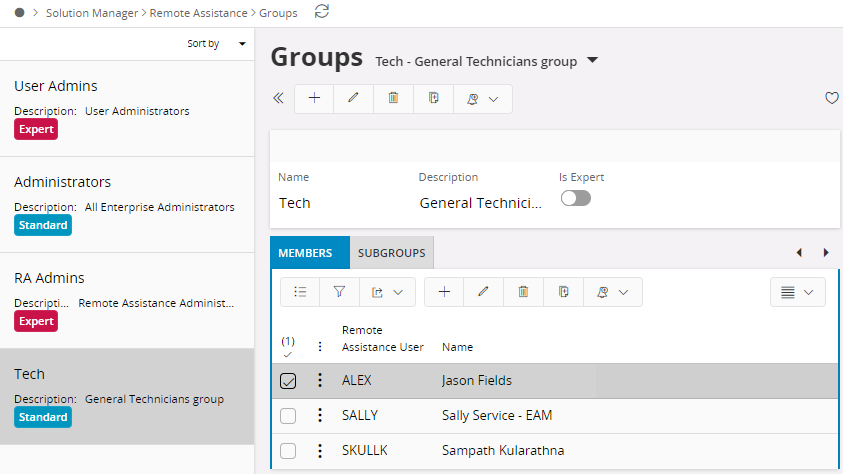 Group Name and Description is mandatory. For Expert Groups, Group name will be displayed in your call list.
Only an expert group can have a parent group.
*** If there are members that belongs to a certain group and only that, that group cannot be deleted.
Making A Call¶
Once the User is registered as a Remote Assistance User the call option will appear in the menu bar in IFS Aurena and IFS Aurena Native Apps that are built for Remote Assistance use (such as MWO Service and MWO Maintenance).
When a Call is made the User will be notified in a pop-up as shown below in IFS Aurena and IFS Aurena Native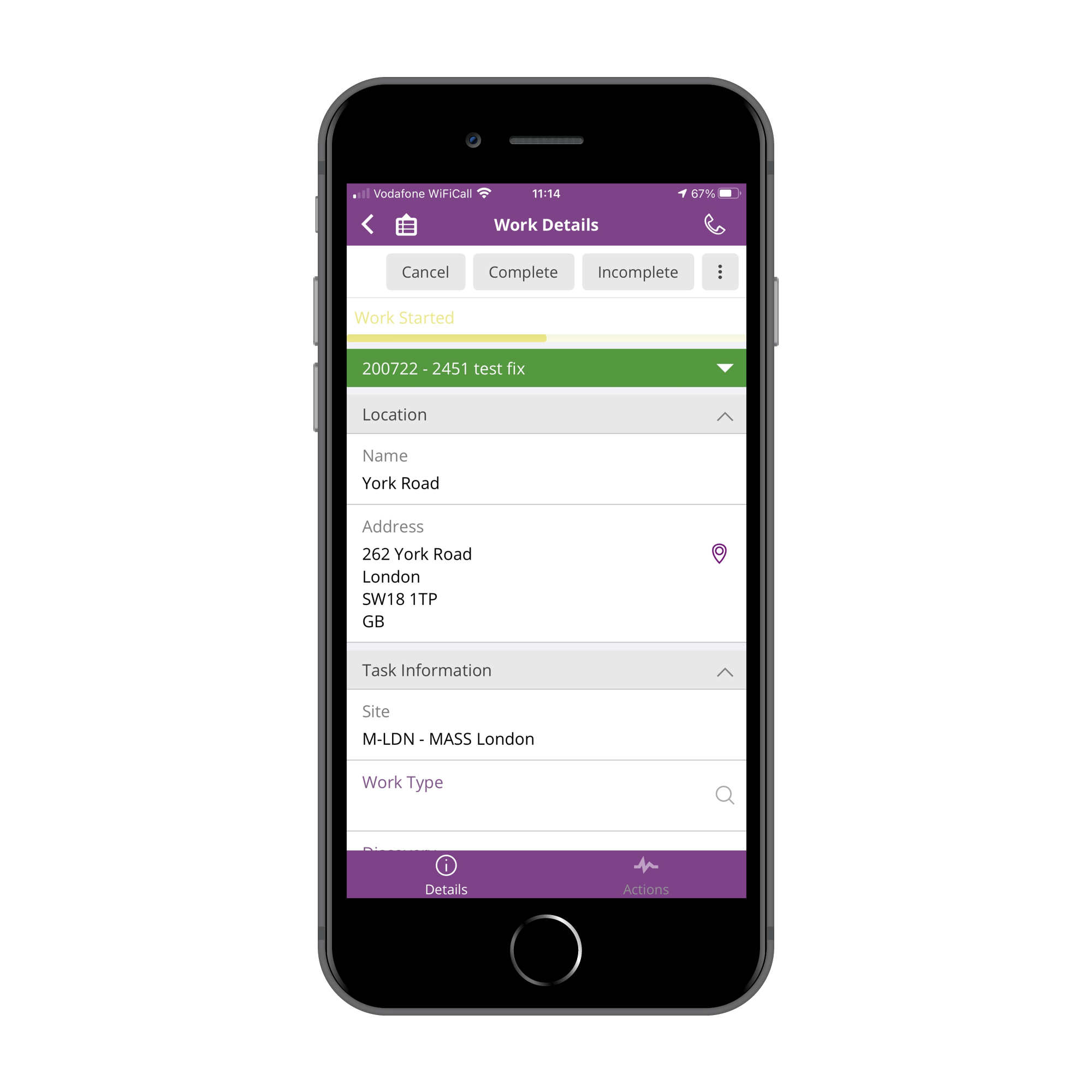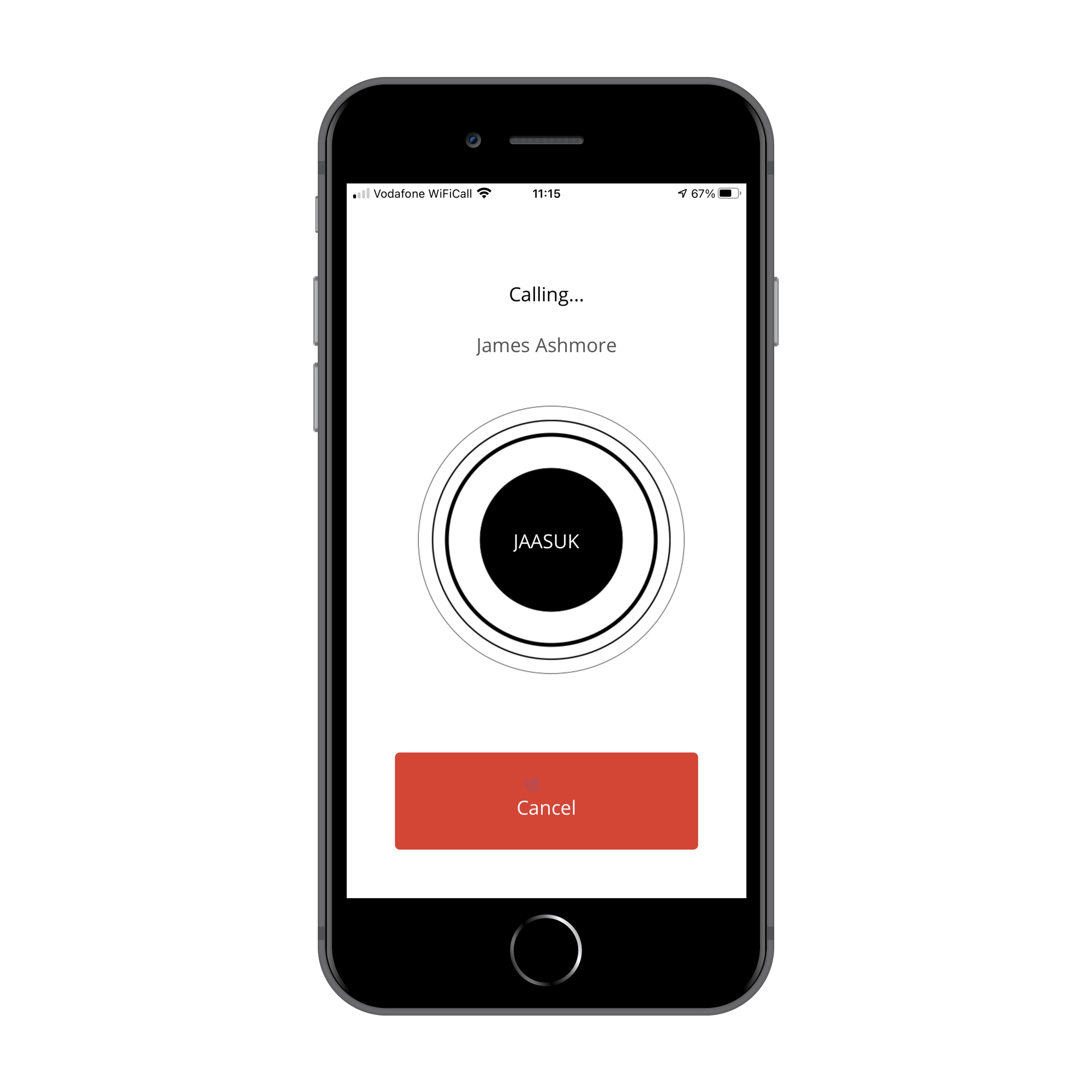 User Status¶
Within IFS Aurena it is possible to set Available or Do Not Disturb. Whilst set to Do Not Disturb the user will not receive Remote Assistance calls.