Translate Texts¶
This chapter describes how to manage text translations in IFS Cloud. It covers topics such as how to suggest translations and reject translations. Figure 1 shows where the Text Translations page is found in the navigator structure.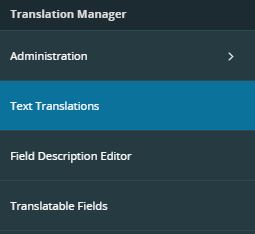 Figure 1. Text Translation page in the navigator structure
Manage Text Translations¶
Text translations are managed in the Text Translations page. When navigating to the Text Translation page, a Search window will appear in order to filter out the relevant Prog texts, see Figure 2.
Figure 2. Search Text Translations
Figure 3. Text Translations page
The Prog Text shows the original text which is coded into the application, this is the text that is translated. The Translation field is where the translation for the corresponding Prog Text is displayed. clicking on a record will show several operations in Figure 4.

Figure 4. Options when right clicking on a record
Reject Translation¶
Translations can be rejected if they are evaluated to be inaccurate. A rejection is done by right clicking on the record you want to do the rejection for, this will open the Reject Translation dialog, see Figure 5. This dialog will display the Prog Text for the translation and contains the field Reject Information where information connected to the rejection should be included. If the rejection is connected to a support case, Case ID can also be added in the field below. The rejection will then be sent to the translation agency which will update their translation memory accordingly.
Figure 5. The Reject Translation dialog
Suggest Translation¶
In order to get suggestions for text translations, there is suggestion functionality available to give support in the process. It provides suggestions of translations based on previous translations of the Prog Text that you use the suggest functionality for . In order to receive suggestions, do like this:
Select the record that should be translated.
Press Suggest Translation button.
A dialog will appear where you can see the Prog Text of the chosen record and also the suggested translations, see Figure 6. The ratio displays the number of occurrences for the specific translation.
Here you should pick the appropriate Translated Text and click OK. Try to pick a translation that corresponds closely to the Prog Text.

You can use the Suggest Translation functionality for multiple rows as long as all the selected rows have the same Prog Text and Language.
Figure 6. Suggested Chinese Translations for the Prog Text "Quantity"